on 6/17/17 Jupiter put on a show:
both io and ganymede transited jupiter's face while the great red spot was showing. unfortunately, the seeing was not great. here's what i salvaged: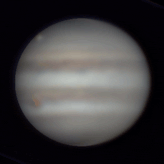 Jupiter Ganymede, Io's shadow
6-18-2017 05:23 UT
the animation shows ganymede (upper left) rotating across the face of jupiter and then fade from view. io has already begun its transit, but is lost in the northern equatorial belt. just as ganymede fades from view, io's shadow races across from the left side. towards the end you can again see a hint of ganymede again, (brownish spot) rotating across the surface up top.
here's shot from the night before with a bit better seeing, but no exciting events: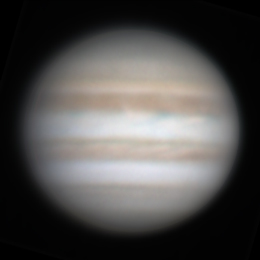 Jupiter
6/17/2017 05:28 UT
imaging notes
Poor seeing on the night of the animation
combining all the images in winjupos smoothed things out dramatically,
but required way too much time in photoshop combining the win jupos and standard versions.
The mono camera/filters do seem to give better color (previous night).
image details:
Meade LX850 12" f/8
televue 2x Barlow
FocalLength~4100mm
Resolution~0.19"
for animation:
ZWO ASI120MC (color camera)
approximately 40x1 minute captures spaced by a minute
captures with firecapture @ ~134 fps
exposure 5 ms per frame
for still image:
ASI120MM-S mono camera
ZWO RGB filters
3x2 minute captures for each filter R G B
captures with firecapture @ ~190 fps
exposure 5 ms per frame
stacked in autostakkert, combined in WinJupos, sharpened in registax 6
6/17-18/2017
Eastbluff, CA