Caught a number of background quasars in the field of Abell 1367.
quasars (quasi-stellar radio sources)
look like faint blue stars
but they have *very* high red-shifts
which made them somewhat of a mystery
turns out they are actually extremely distant galaxies
with black holes that are actively feeding on matter
generating massive amounts of light.
though light cannot escape the black holes,
energy is generated just outside the event horizon
by massive gravitational stresses and friction acting on the incoming material.
the most distant quasar in the image
(blue dot just below the S in QSO lower left)
has a red shift (Z) of 3.36: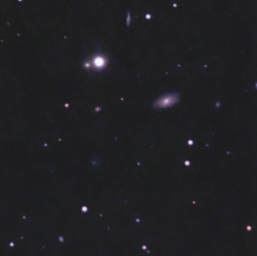 recall that the redshift of the galaxy cluster 330 million light years distant was 2.3% or .023
the QSO's red shift is 3.36 or 336%!
so how far away is it?
well here's where things get *relatively* slippery
the universe is expanding
it's taken light a really long time to reach us from this object
do we want to know how far away it is now or how far away it was when the light left the galaxy?
when it left the galaxy, our planet, solar system and sun didn't exist.
now, due to the expansion of the universe, the galaxy is moving away from us faster than the speed of light
it's current distance can never be observed
dirty cosmology trick:
nothing can move through space faster than the speed of light
but the universe itself can expand faster than the speed of light
(my head hurts)
the commonly used figure is
light travel time
which is neither where it is now, nor where it was when it emitted the light
but a measure of how long it took the photons to reach us
it gets even worse:
redshift versus distance is not linear for large distances
so in order to calculate the distance
theoretical models with various parameters including the shape of the universe!
have to be used
best estimates for the parameters change over time
...so by one of the more commonly used estimates
*
, this one is
11.8 billion light years away
the big bang happened 13.7 billion years ago
the universe was a lot smaller place when light left this object
here's another small crop from the center of the image
including the Ha emitting galaxy from last time
with 3 quasars (distance in billions of light years):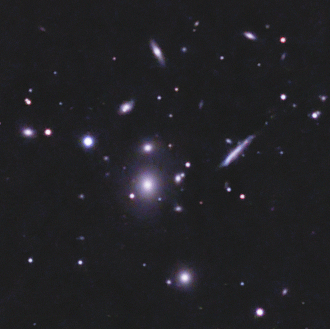 interesting cosmological explanations (laymen's terms):
life the universe and everything
(be sure to mouse over the answer)
Ned Wright's FAQ on cosmology and the big bang
*

Ned Wright's Cosmology Calculator