The Jellyfish nebula is a large supernova remnant in the constellation Gemini. Hydrogen (Ha-red) and Oxygen (OIII-blue):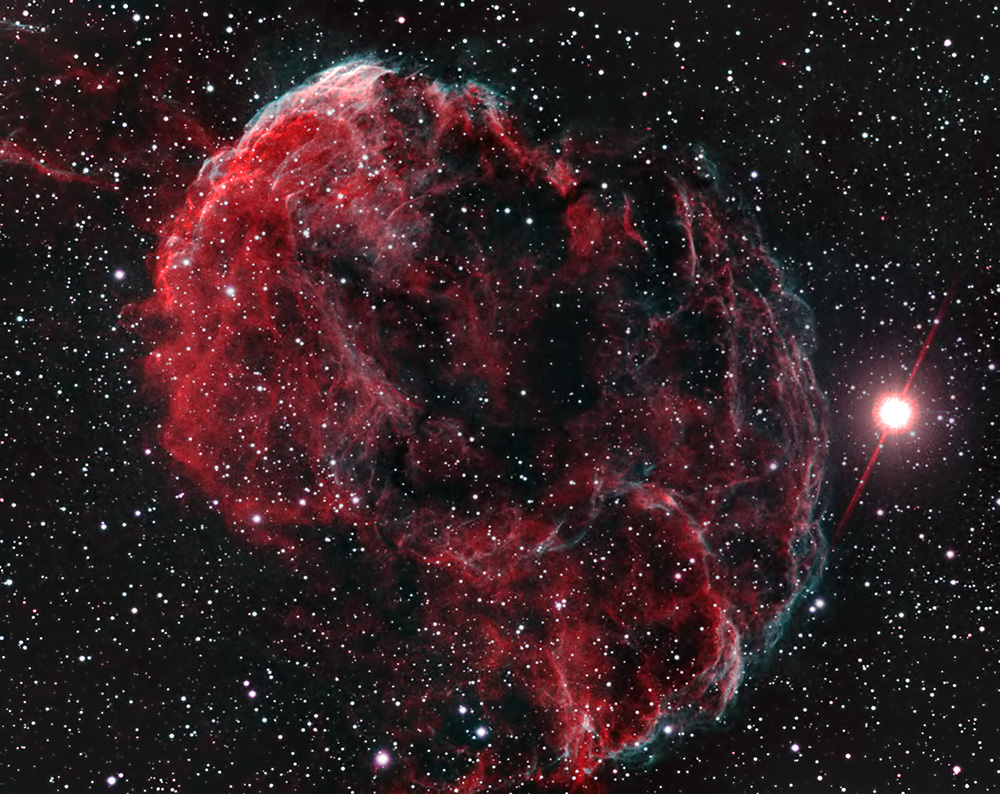 IC 443 in Ha and OIII
click for larger size
Here's a bright starless Ha version in jellyfish orientation with the "body" up top and "tendrils" reaching down: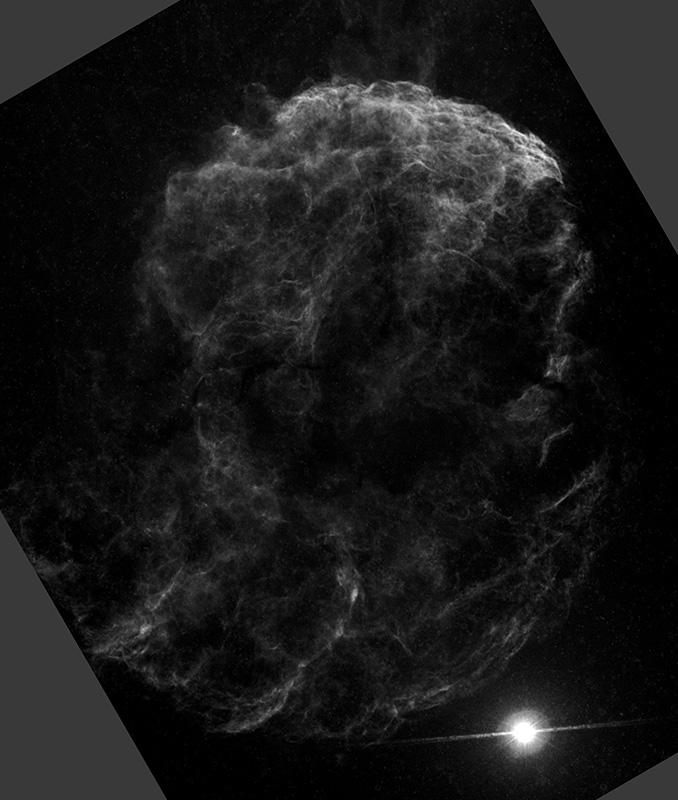 Jellyfish Nebula Ha
The OIII signal is much more faint than the Ha, it was boosted in the above image to show the OIII detail.
Here's a darker version with the blue OIII barely visible
Here's a blink comparing starless Ha and OIII versions: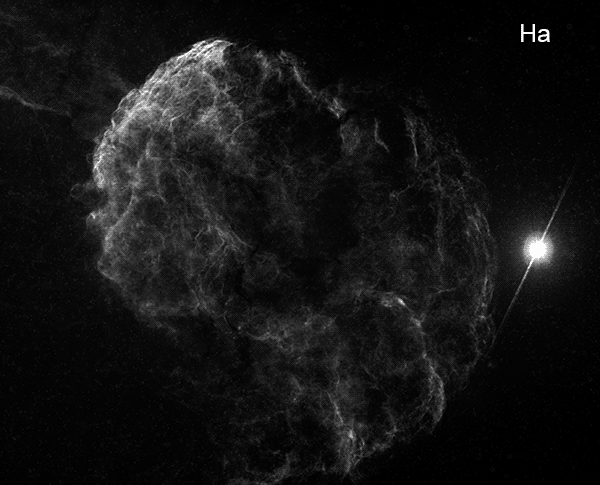 IC 443 in hydrogen and oxygen
Note that in OIII it looks much more like an expanding ring of gas resulting from an explosion than Ha.
Here are brighter versions of Ha: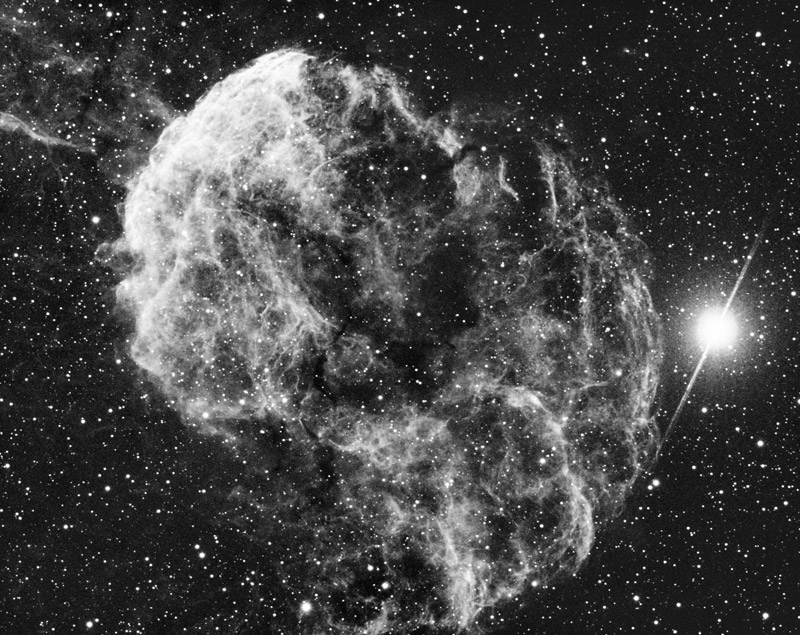 IC 443 Ha
and OIII: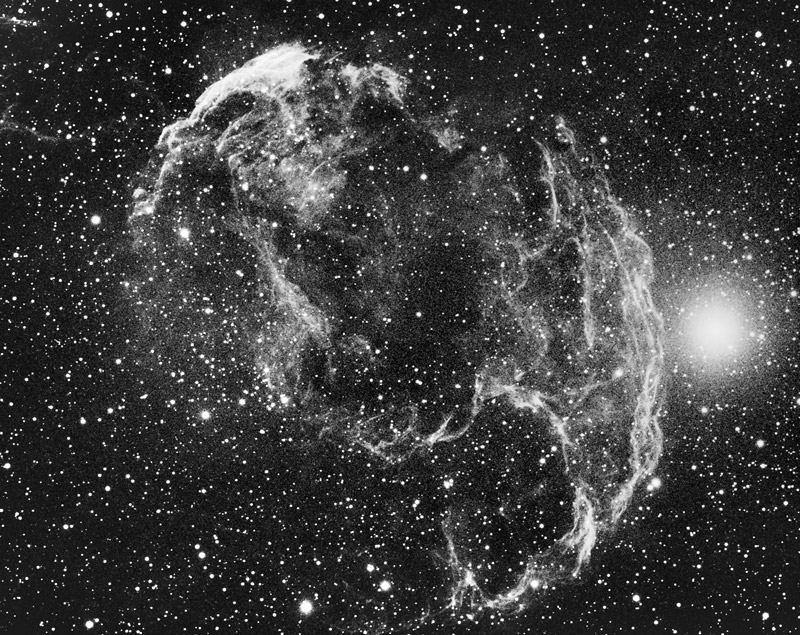 IC 443 OIII
The nebula is 50 arc minutes, larger than a full moon.
Here are 2 interesting structures in the field:
The first, lower left, is the location of a presumed pulsar--a spinning neutron star resulting from the supernova.

The blinking spot is the approximate location of the pulsar.
The thin filament seen in Ha going to the left and upwards slightly, roughly follows the line of apparent motion of the neutron star superimposed on the pulsar wind (see below).
There is still some debate as to whether this structure was responsible for the supernova due to it's off-center location. The assumption is that it was an asymmetric blast.
It was only recently discovered by an x-ray survey using NASA's space based Chandra x-ray observatory. The neutron star is not detected in visible light, but can be seen in the Chandra X-ray image along with a surrounding pulsar wind nebula: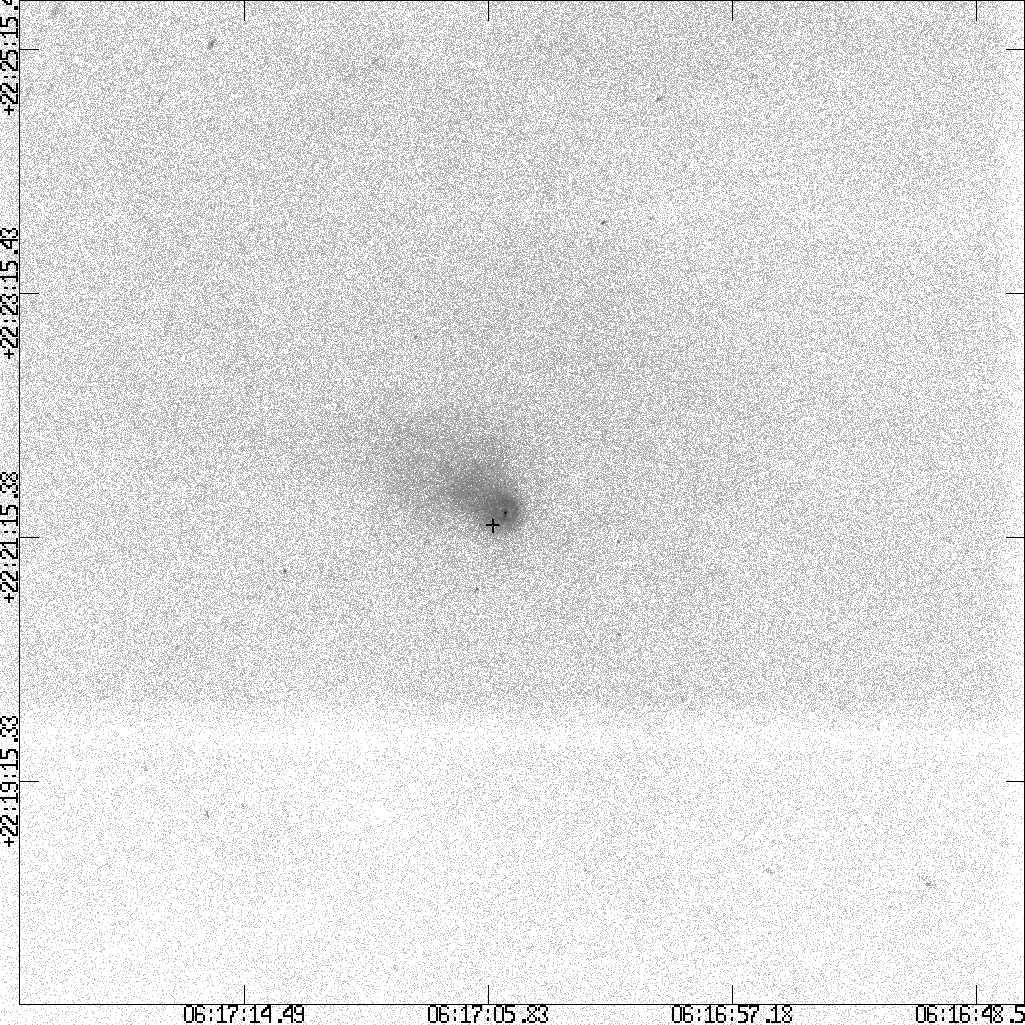 Chandra X-ray image
Though Chandra detected the x-ray source, pulsations were not detected. The estimated period is 0.1-0.6 seconds, which was below the sensitivity of the equipment, i blinked it at .2 s ;)
The second, upper right, looks like it might be a small planetary nebula.
SIMBAD lists a star cluster, molecular cloud, and bright nebula at this location, but no planetary nebula:
Teutsch GN J0615.3+2253 -- Bright Nebula
6 15 21.1 +22 53 27
Image details:
When I first shot it, I forgot that it was a supernova remnant and took a few test shots in SII and NII, only to find that they appeared to simply mirror the Ha with much weaker signal.
Despite imaging with narrower band width and 2x binning, the OIII is still much more faint than the Ha.
FS102, SX Trius 694 FL 627.3 mm, 1.49"/Pixel unbinned, reduced in photoshop to 3.9"/px
astrodon 5nm Ha, 3nm OIII filters
ASA DDM60
Ha 102x10 min + 20x10 min bx2
OIII 152x10 min bx2
total 45 hours 40 minutes ;)
1/14-2/23/2018, bortle white skies
eastbluff, CA