Why the 10/7/2018 falcon 9 launch was special:
1. it was launched from vandenberg airbase aiming south over the ocean
so it could be seen all the way from los angeles to san diego
2. the launch took place after dark, so the bright rocket could be seen well
3. it was done shortly after dark, so as the rocket rose above the shadow of the earth the exhaust was back-lit by sunlight, glowing brightly in the sky,
presenting a cinematic view to los angeles and orange counties
4. the first stage rocketed back to vandenberg, landing at the airbase--the first ground landing of a falcon rocket on the west coast--"the falcon has landed" crowed spacex launch control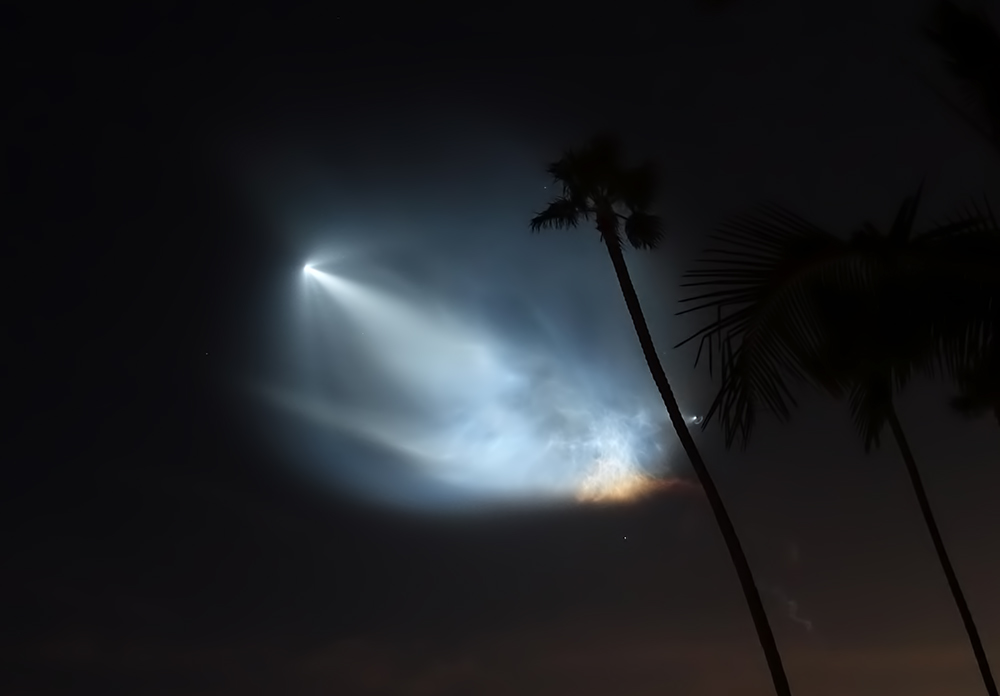 falcon-9 10/7/2018
In this image the cone (upper left) is the second stage of the rocket heading into orbit with its satellite payload.
to the right of this, the exhaust (above the earth's shadow) is brightly lit by the sun.
The bright spot to the right of the palm tree is the first stage rocketing back to vandenberg, you can see a swirl of maneuvering thruster exhaust adjacent to it.
another shot, later on: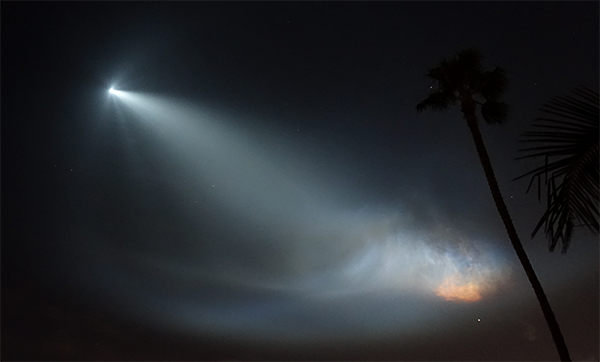 I assembled a series of stills sandy captured with her compact hand held camera into a rudimentary animation: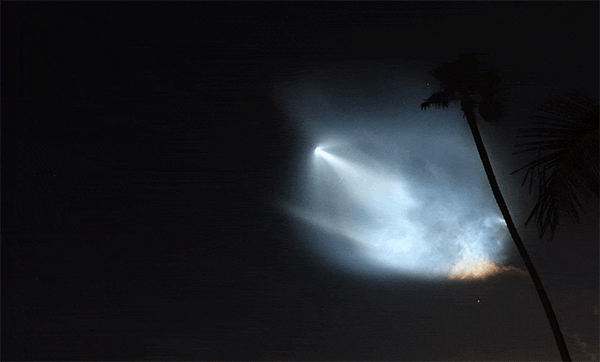 For information on future launches, you can subscribe to this email list
http://mailman.qth.net/mailman/listinfo/launch-alert
which will send launch alerts, as well has information on the more spectacular launches
image details
Sony DSC-RX100M3
f/1.8, 1/10 sec, iso 3200 9 mm
corona del mar, CA
10/7/2018
the clouds broke just in time to give a clear view of the launch, then returned
photoshop, topaz denoise for the still shot