I chose Casper Wyoming for the eclipse for several reasons:
1 historically it had the greatest chance of clear skies at that time and date of any region on the eclipse track
2 it has a local airport making it easy to get in and out, important given dire predictions of crowds traffic jams and gas shortages
After a smooth flight to the airport, i found the google satellite image of my hotel somewhat disconcerting: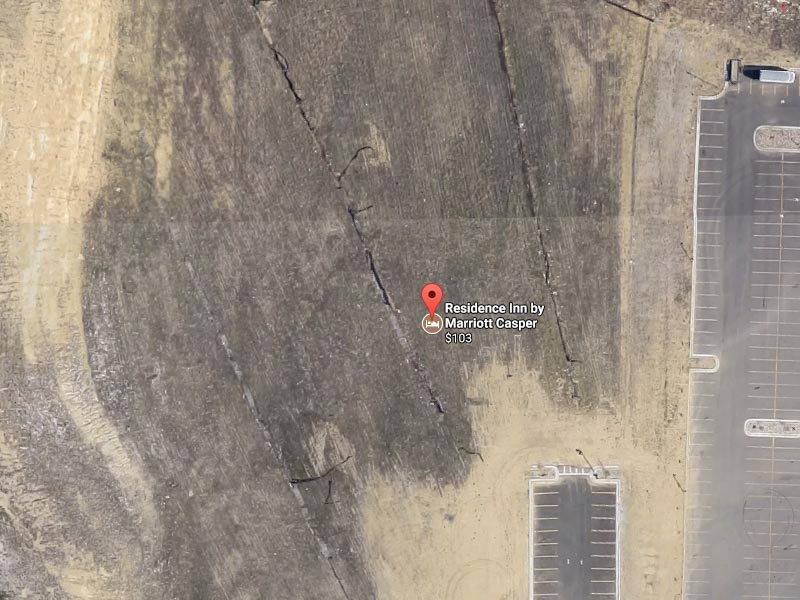 Hotel not yet built in google maps images
needless to say i paid triple that rate at eclipse time.
so what gives?
north view from hotel: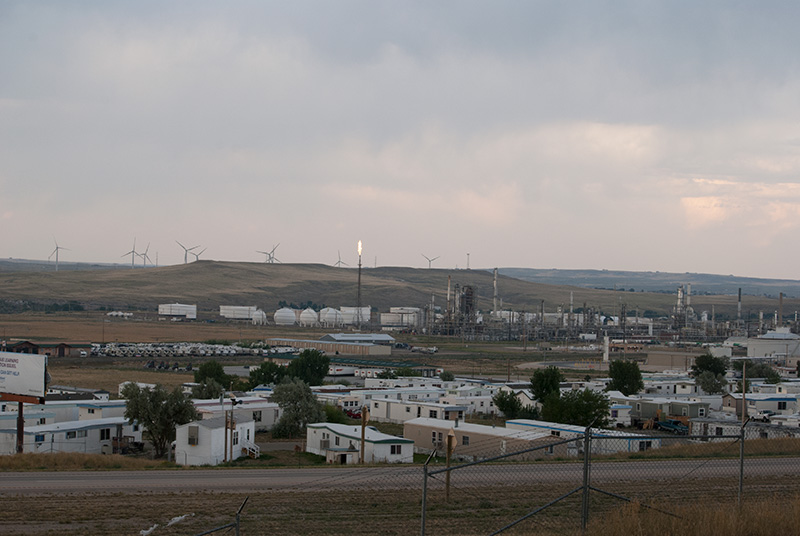 Casper's Eternal Flame and cloud cover...
locals informed me, Casper is a boom or bust town, currently driven by natural gas, not booming at present.
so i had a brand new hotel with brand new shopping malls at the edge of town designed for expansion that wasn't happening. so much for the crowds.
i had allowed 3 hours for the 20 minute ride to the airport after the eclipse...
and made it in 15 minutes. all the traffic was north south after the eclipse, not east west to the airport.
that being said, folks that attempted to drive north to the eclipse track on the morning of the event were basically stuck on the freeway, unable to make it.
spent one late night stargazing up in casper mountain. the views were stunning, but no pics (another story):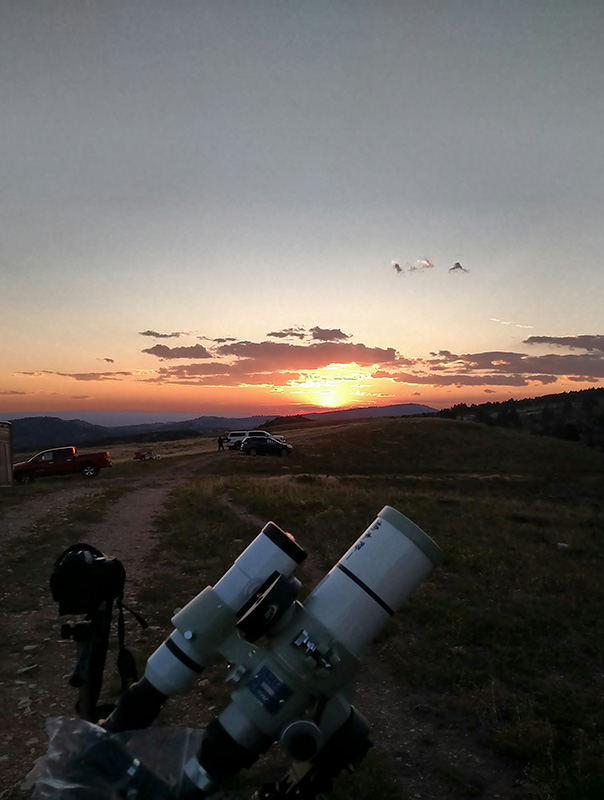 Sunset, Casper Mountain Wyoming

Casper Mountain Panorama
click for full size
despite long term predictions, and near term forecasts for clear skies, i came very close to being clouded out.
after a beautifully clear morning, here's the sky to the northeast 15 minutes before totality: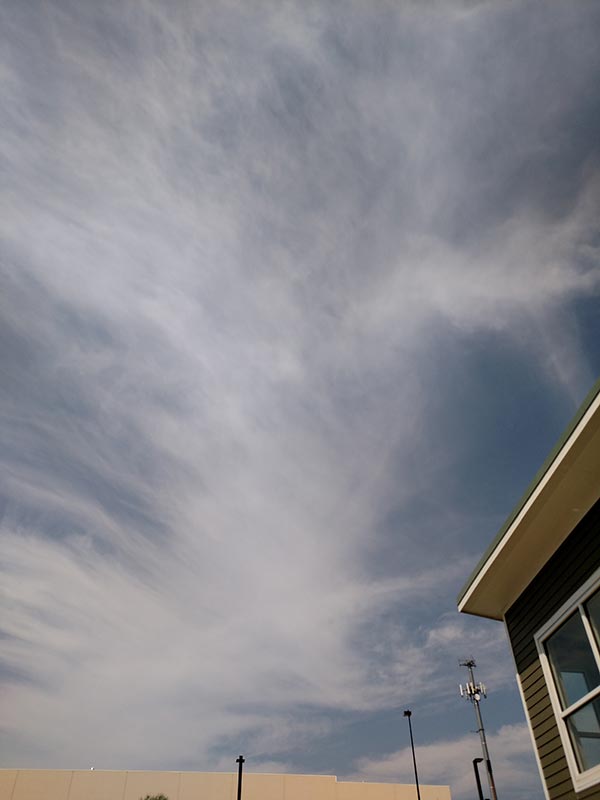 weather radar from eclipse day: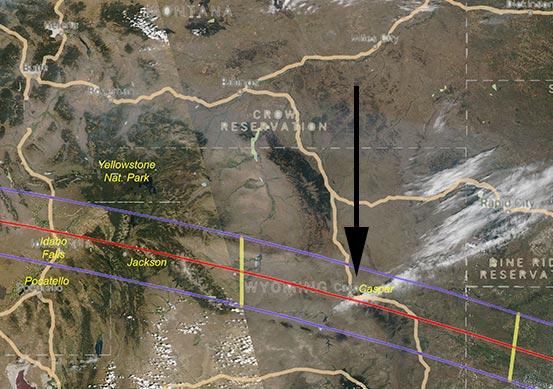 note thin line of clouds moving right over Casper
Thanks to Dave Kodama for the image
I actually viewed and imaged the eclipse through clouds: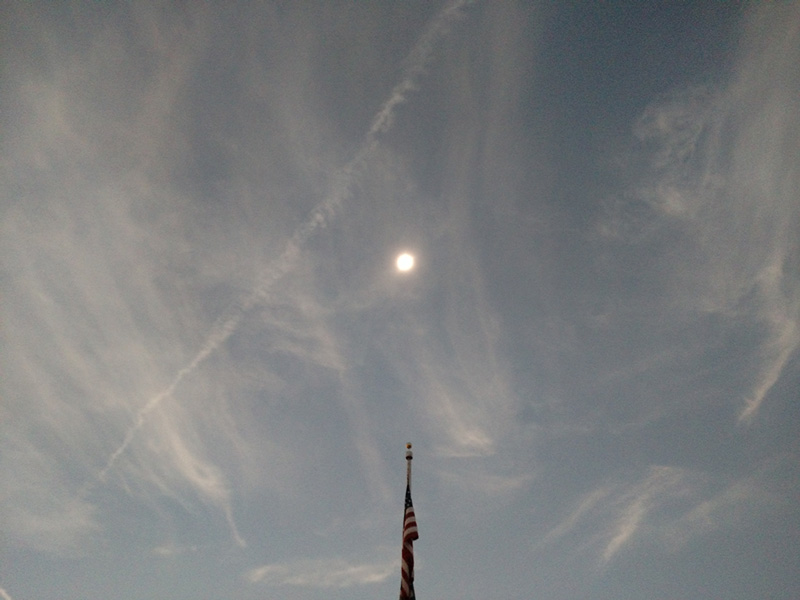 Great American Eclipse
8/21/17
overexposed, but you can see a hint of the corona's triangular spikes, and of course the thin clouds.
i think scattered light from the clouds kept the sky lighter than most eclipse accounts.
by 4th contact (end of partial eclipse)
the sun was completely obscured by clouds: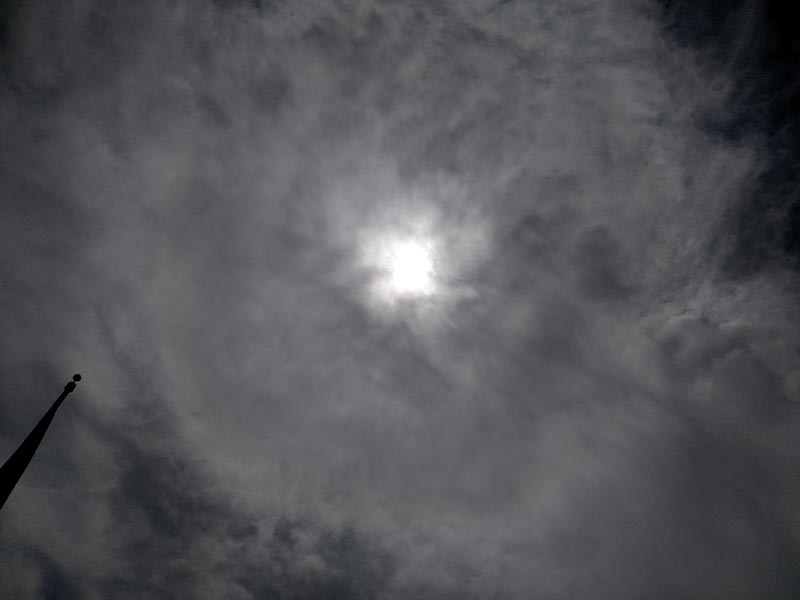 4th Contact
More to follow...
Image details:
cell phone Droid Turbo ;)
Casper Wyoming
42,50.9694N 106,15.5688W
8/21/2017
Casper Mountain
8/18/2017