the bright star in the east after dark (which is pretty late these days)
seeing has been lousy this season, but i finally gave it a try on a night of mediocre seeing and got this: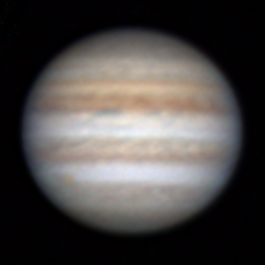 Jupiter 4/11/2017
ran a few tests with an infrared (IR) pass filter to see if it would yield a sharper image. In theory the redder the light (longer wavelength), the less it is distorted by atmospheric seeing, so images should be sharper, but...
the optical resolution limit of a telescope is defined by the wavelength of the light: longer wavelength reduces the theoretical limit of the telescope. furthermore, the IR pass filter typically allows less light than a standard red filter. therefore, exposures may need to be longer (leading to more atmospheric motion) and/or higher noise.
so in practice is the IR image sharper than the others?
here's a blink comparing red to infrared (no contest comparing to blue and green):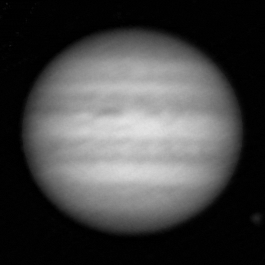 red vs infrared
clearly sharper, but perhaps a bit more noise.
However, for the combined image, it was difficult to appreciate any difference:
here's RGB vs IRGB (substituting IR for red):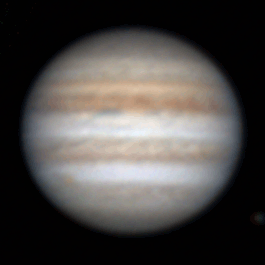 RGB vs IRGB
the difference is very subtle, with perhaps a bit more detail in the short blue stripe just above the middle white band.
lastly, i used IR as the luminance channel which changed the colors dramatically, but probably a bit too far from the RGB: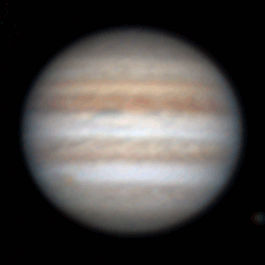 RGB vs IR-IRGB
this, i think, is my first successful image with a new (used) larger scope
which i picked up on astromart almost a year ago
in order to catch saturn's hexagon,
explaining a year of poor seeing.
the new scope is pretty friggin' big and a PITA to haul around in the dark at 2 AM so i hope it works out
Meade LX850 12" f/8 ACF OTA + Feathertouch focuser
secondary 4.72" (120 mm) / 41%
image details:
ZWO ASI120MC/ASI120MM-S
ZWO RGB filters, Baader IR pass "685" nm
2x90 second captures for each filter R G B IR
captures with firecapture @ ~140 fps
stacked in autostakkert, combined in WinJupos, sharpened in registax 6
Southern California
4/11/17